An innovation ecosystem refers to the network of stakeholder groups and experts that come together to support innovation.  In Newfoundland and Labrador, this ecosystem includes the Government of Newfoundland and Labrador, all regional health authorities (Eastern, Central, Western and Labrador-Grenfell), the Newfoundland and Labrador Centre for Health Information, post-secondary training institutes, Atlantic Canada Opportunities Agency (ACOA) and other funding agencies, private enterprise, the technology sector and many others that support or may support innovation in health care now or in the future.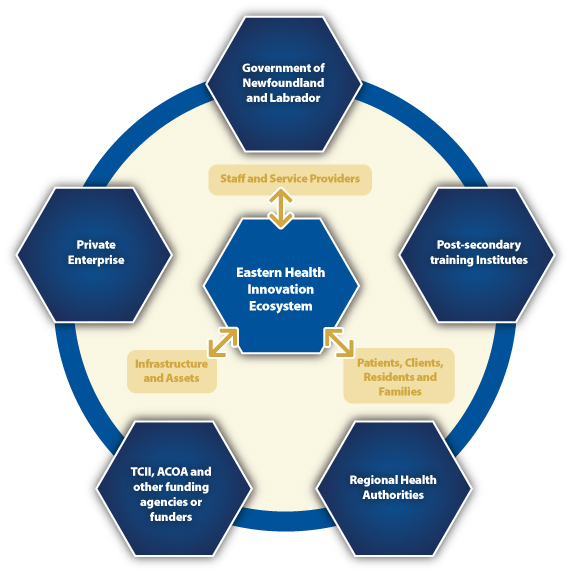 Profile
As the largest integrated health authority in Newfoundland and Labrador, Eastern Health is well situated to be a health innovation leader in this province (see Figure below).
We provide a full continuum of health and community services as well as a learning environment for numerous disciplines such as medicine, nursing, pharmacy, allied health and others.
We have strong ties to the academic community and, in our everyday business operations, we have formed effective relationships with local, national and international business partners.  We possess the physical infrastructure required for solution testing. We have a highly skilled workforce, and specialists in the delivery of health-care services that, by design, are also health-care solution creators and consumers.   Further, our patients and their families, as users of the health-care system, often have unparalleled insight into what innovative solutions are needed and how they should be designed and delivered to better meet their needs. As innovators in the health-care system, our goal is to co-design solutions to improve health care and better serve our patients, clients and their family members. In order to accomplish this, we have developed an innovation strategy.
To learn more about the origanization, please see About Eastern Health.